Why solving the Asian carp problem is so hard
Invasive Asian carp traveled up the Mississippi River to Lake Michigan, threatening the regional economy as well as the environment.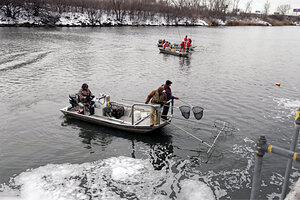 Spencer Green/AP
The scenario seems lifted from a Hollywood disaster movie: a creature poised to invade the water system of a great American city eats everything in its path and reproduces so quickly that its invasion could mean the death of most other living things in the water.
The reality may be just as frightful.
The Asian carp, a filter fish known to consume one-third of its body weight in a day, has found its way to the doorstep of Lake Michigan, which environmentalists say spells disaster for the Great Lakes ecosystem and threatens to destroy the $7 billion in recreational fishing and tourism revenue generated each year.
"Stopping the Asian carp invasion is perhaps the biggest ecological challenge of our generation," says Jennifer Nalbone of Great Lakes United, a coalition of advocacy groups dedicated to protecting the Great Lakes.
IN PICTURES: The 20 weirdest fish in the ocean
How to do it is another matter.
In December, a single Asian carp was discovered about six miles from Lake Michigan's Chicago shoreline. Since then, Illinois has come under criticism from neighboring states, which say Illinois and federal lawmakers are not doing enough to stop the invasion.
---