NCAA men's basketball tournament: six records that may never fall
Last year, only one record was broken in the NCAA men's basketball tournament. Here are six records that you may not have heard of but are feats not likely to be duplicated anytime soon.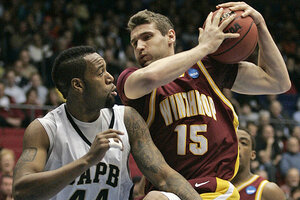 Skip Peterson/AP
As the NCAA men's basketball championship gets down to business Thursday, the silent partner in the drama will be records set in previous years. They establish the highs and lows of the tournament's history and give it character.
Not many are broken from year to year. In fact, only one was last year, by Arinze Onuaku of Syracuse. The 6 ft. 9 in. forward made 15 of 19 field-goal attempts in three games (a minimum for a "series" record), giving him an unsurpassed 78.9 percent accuracy rate.
One other record was tied, when North Carolina's Ty Lawson stole the ball eight times – in the championship game, no less – against Michigan State. He joined three other players to accomplish the feat.
Here are half a dozen tournament records, both team and individual, worthy of attention.
TEAM RECORDS
Fewest field goals in a single game : 8
… by Springfield against Indiana in 1940.
Springfield also set the mark for shooting futility by making only 12.7 percent of its attempts in losing to Indiana, 48-24. Two things are worth nothing here: These are the oldest surviving records in NCAA tournament annals, and ironically, they were set by the very college where James Naismith invented basketball.
---