What's behind record flood predictions?
Heavy autumn rains, a wet winter, and an El Niño-induced wet spring could bring record floods to parts of the US, forecasters say.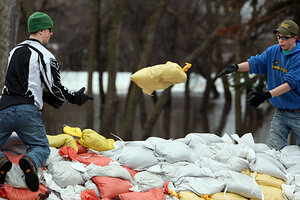 Jay Pickthorn/AP
More than a third of the US faces a high risk of flooding this spring, and Midwesterners may get the brunt of it, according to government forecasters.
Heavy rains last fall, thaw from an unusually wet winter, and a potentially wet spring due to El Nino could produce record flooding in some areas, the National Oceanic and Atmospheric Administration (NOAA) announced late Tuesday.
"We are looking at potentially historic flooding," said NOAA administrator Jane Lubchenco. "It's a terrible case of déjà vu, but this time the flooding will likely be more widespread," she said, referring to the record floods of 2009 in Fargo, N.D.'s Red River valley.
The upper Midwest, including the Dakotas, Minnesota, and Iowa, has the highest risk for flooding.
IN PICTURES: Springtime flooding in the US
Residents in Fargo, N.D., and Moorhead, Minn., are sandbagging homes and reinforcing dikes and levees as the Red River continues to rise. It is forecast to crest Saturday about 20 feet above flood stage. The river crested at 22 feet above flood stage in 2009, setting an all-time record, according to NOAA.
Flood risk is also above-average throughout much of the Mid-Atlantic, south, and the east coast, including the Mississippi River and Ohio River basins.
---