Bruins vs. Penguins: 'Frontier justice' for Matt Cooke hit?
Will the Boston Bruins retaliate for Pittsburgh Penguin Matt Cooke's season-ending hit to star forward Marc Savard? The controversy comes as the NHL tries to limit injuries to top players.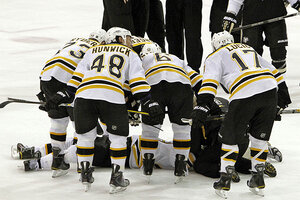 Keith Srakocic/AP
Boston hockey fans marked this day on their calendar more than two weeks ago.
When the Boston Bruins' star center, Marc Savard, was felled for the season by a shoulder to the head from Pittsburgh Penguin Matt Cooke on March 7, fans sensed what must come: a bench-clearing brawl. By the code that governs the game of hockey, it was the only conceivable outcome: An opponent cannot be allowed to injure your best player without retribution.
Instead, something remarkable happened. The Bruins hardly reacted at all.
Since that day, Bruins fans have been in a perpetual state of outrage. For one, National Hockey League disciplinarian Colin Campbell refused to mete out a punishment against Cooke, calling the hit clean. But fans' anger is, in many ways, directed at the Bruins, too. Hockey commentators like Barry Melrose called the Bruins' lack of response to Cooke's hit "embarrasing."
Tonight, the two teams face each other or the first time since the incident – this time, in Boston.
What will the Bruins do?
Expectations are high around the hockey world to see what the Bruins will do. They're caught between desperately needing to win the game to stay in playoff contention and reestablishing some hockey dignity by teaching Cooke, who is no stranger to allegations of cheap shots, a lesson.
---