Put down that NCAA basketball bracket, we've got trivia!
Snacks? Check. NCAA basketball tournament bracket? Check. Remote? Check. OK, time for some last-minute cramming about the best March Madness trivia.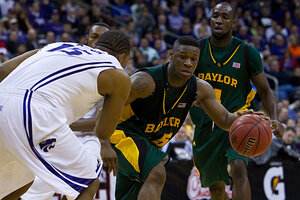 Newscom
Finally, B-Day has arrived.
The wait to tip off the first full day of the men's NCAA basketball tournament commences at roughly high noon, Eastern Time, Thursday. By now, you've certainly filled in your brackets, stocked up on chips and soda, and positioned the March Madness TV schedule next to the remote.
Still, there is time for some last-minute cramming, exam-style.
Do you know how many schools have won both the men's and women's tournament? Did you know that Jimmer Fredette is not a typo? Do you know who he plays for?
Read on...
The best of March Madness present
Most peculiar season turned in by a tournament team
Arkansas-Pine Bluff, which won the Tuesday play-in game, began by losing its first 11 games, all except one by double digits. Their average margin of defeat was 15 points, and they didn't play their first home game until mid-January. Once the Golden Lions got into their Southwestern Athletic Conference schedule, they were mostly, well, golden. From that point they've gone 18-4.
Teams with the best graduation success rates
---