US trains nuclear detectives to trace 'loose' nukes
As nuclear safety concerns rise, the US government is building a stable of nuclear detectives – offering summer internships to those interested in radiochemistry nuclear forensics.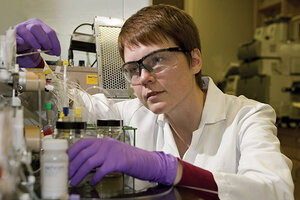 Jacqueline McBride/Lawrence Livermore National Laboratory
It was not Urskan Hanifi's night.
He was stopped at a border checkpoint just after midnight, crossing from Romania into Bulgaria, when guards doing a routine inspection of his car turned up documents written in Russian – including one that described a shipment of uranium.
It was enough to make the guards suspicious. Popping the trunk, they found an air compressor inside, and upon closer inspection a tiny amount of highly enriched uranium, encased in a small glass vial, encased in wax, encased in a lead container.
Busted.
The uranium in this nuclear-age nesting doll wasn't weapons-grade, but it was sufficiently enriched to suggest that the batch it came from could be turned into a crude atomic bomb.
But where did it come from? And who performed a serious enrichment job on it?
Those questions, still largely unanswered in the 1999 Hanifi event, exemplify the kind of puzzle that falls to scientists involved in the small but vital field of nuclear forensics. Call it "CSI Atomic." Now, almost a decade after the 9/11 terrorist attacks, the US government wants to ensure its nuclear forensics proficiency – and an adequate stable of scientists who know their way around radioactive materials.
The Nuclear Forensic and Attribution Act, signed into law last month, aims to improve coordination among US agencies that probe cases of nuclear terrorism or nuclear smuggling. And it encourages tighter international cooperation in probing incidents beyond US soil.
---