Geithner: abandoning Fannie Mae not a solution to mortgage crisis
Treasury Secretary Timothy Geithner said Tuesday that the mortgage crisis will not lead the administration either to abandon or nationalize mortgage giants Fannie Mae and Freddie Mac.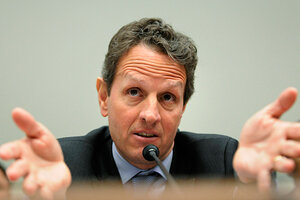 Jonathan Ernst/Reuters
Treasury Secretary Tim Geithner offered a tentative road map Tuesday for fixing what he called America's "damaged" system of housing finance, symbolized by the financial woes of Fannie Mae and Freddie Mac.
The the task is one of the most difficult mop-up and reform operations arising from the mortgage crisis.
For now, Fannie and Freddie are losing lots of money, and are in a Treasury conservatorship that puts US taxpayers on the hook. At the same time, the Obama administration is relying on Fanny and Freddie, sometimes called government-sponsored enterprises (GSEs), to keep home loans available amid a historic housing-market bust.
In his testimony before the House Financial Services Committee, Mr. Geithner did not offer a detailed reform proposal, but outlined some guiding principles. Significantly, he did specifically reject some options.
---