Nuclear waste piles up, and it's costing taxpayers billions
The Bush administration agreed to store nuclear waste from 21 new reactors. But the federal government still can't meet its commitment to find permanent storage.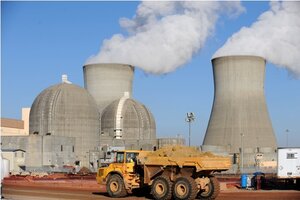 Newscom
In the waning days of the Bush administration, the US Department of Energy signed contracts with more than a dozen utilities promising to permanently store nuclear waste from 21 not-yet-built reactors, nuclear watchdog groups reported Wednesday.
But that "below the radar" DOE commitment was an unreasonable and unnecessary risk to taxpayers given the $1 billion dollars in contractual penalties the agency faced at the time – and the agency's 35-year failure to develop a permanent radioactive waste storage site, the groups said, citing federal contract documents they had obtained.
At the time DOE officials signed the contracts in late 2008, the government faced – and still faces – scores of lawsuits by nuclear utilities seeking compensation because the government has not stored their spent fuel as promised. Instead, the utilities must store it on their own sites. When DOE officials signed the deals, the government had already paid $565 million in damages and faced $790 million in judgments on appeal.
IN PICTURES: Nuclear power around the world
"It was rash for the Bush Administration to sign contracts for new reactors while taxpayers are on the hook for billions due to default on existing waste contracts," Arjun Makhijani, president of the Institute for Energy and Environmental Research (IEER), one of the watchdog groups, told reporters at a press conference Wednesday. "These new contracts are likely to add billions more in damages at a time when the federal government is struggling with deficit containment."
---