California the tax increase leader for 2009
California, among 24 states to boost taxes last year, raised $11 billion in new taxes, thanks to a 1 percent sales tax increase.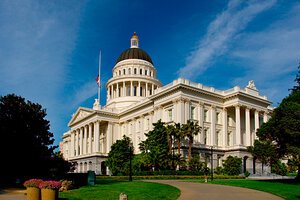 Newscom/File
California led the nation in tax hikes in 2009, a year in which 24 states boosted taxes to cope with recessionary budget woes, according to a report from the National Conference of State Legislatures (NCSL).
The Golden State raised about $11 billion in new taxes, largely due to a temporary 1 percent boost in the state's sales tax. New York trailed California's windfall with $6.9 billion in projected tax increases.
In total, about $28.6 billion in fiscal year 2010 revenues are expected from tax increases nationwide, compared with $3.8 billion from tax adjustments in 2008. Personal income tax increases amounted to the single biggest jump, according to the report, bringing in $11.4 billion in new revenues.
While last year's increases will amount to the largest rise in state revenue from new taxes since 1991, tax analysts say it's unlikely that cash-strapped states will forgo boosting taxes anytime soon, as at least 41 states face midyear budget shortfalls.
"As states are still struggling to balance budgets, they are taking a real close look at their revenue systems," says Bert Waisanen, a fiscal analyst at the NCSL.
In fact, some analysts expect that legislators around the country may eclipse 2009 tax hikes with increases this year.
"I think it'll be worse in 2010," says Joseph Henchman, tax counsel and director of state projects for the Tax Foundation. State revenues typically lag about two years behind the national recovery from a recession, he says.
---