Is any work better than no work? Not for unemployment benefits.
Unemployed Americans who take parttime or temp work may find that their unemployment benefits get cut after that job ends. It's a disincentive to work, but Congress is moving to remedy that.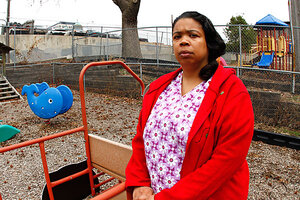 Ed Zurga/AP
Roberta Hanson of North Haven, Conn., had been searching for work for 22 months when she landed a parttime job weekend afternoons and nights for a nearby municipal parks and recreation department.
But now Ms. Hanson rues the day she took that work. Why? The Connecticut Department of Labor used her negligible earnings in her parttime job as the new baseline for Hanson's unemployment benefits. She went from receiving $483 a week to getting nothing.
"Afterwards, unofficially, they said I shouldn't have taken the job," Hanson says.
It's a twist in the law that may affect thousands of other workers, given that the ranks of the long-term unemployed are now so high. Many people who have been out of work for a year are picking up work as temps or part-timers, unaware that state agencies will recalculate their unemployment benefits after a year – and use their most recent work history and pay level to do it.
"What is going on for these workers is that because their most recent wages are much lower than the wages they earned in their prior fulltime job, they are facing substantial cuts in their weekly unemployment benefits," says George Wentworth, a consultant at the National Employment Law Project (NELP) in New York.
Benefits recalculated after a year
---