Storm damage 2010: States ring up the cost
Federal help for winter storm damage is on the way to 35 areas in the US. Recovery hits state and local budgets hard.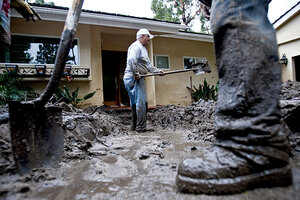 Bret Hartman/AP
Spring may be here, but winter left behind a hefty bill in many states, communities, and businesses.
• Iowa, which had a record snowfall this winter, is spending an extra $12 million to fill potholes and repair roads.
• Buffeted by fierce coastal storms, the beach community of Avalon, N.J., is forking out an extra $4.2 million for emergency beach replenishment. Tens of thousands of cubic feet of sand got sucked into the stormy Atlantic.
• Flooding in the upper Midwest prompted the Federal Emergency Management Agency (FEMA) to declare in mid-March an emergency in Minnesota, North Dakota, and South Dakota.
IN PICTURES: Springtime flooding in the US
To be sure, every spring requires repaving, cleanup from storm damage, and preparation for the summer. Still, with March coming to a close, the storms have hardly let up: Another coastal storm on Monday and Tuesday is expected to bring torrential rain – with the threat of flooding – to the mid-Atlantic and Northeast. The Pacific Northwest is also bracing for storms that could mean spring flooding, according to AccuWeather.com.
---