Trading 'movie futures' like pork bellies? MPAA fights the idea.
A proposed futures commodity exchange, in which investors could speculate on which movies will make money, is opposed by the MPAA as 'legalized gambling on movie receipts.'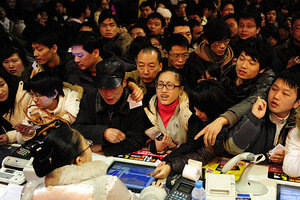 Newscom
Two firms want to turn America's growing obsession with how much money movies make into a full-blown futures exchange through which investors can peculate on Hollywood profits and losses, much as traditional commodities markets offer wagers on the future prices of pork bellies and orange juice.
The two exchanges – one from New York, another based in Chicago – hope to gain approval and open for investors in April. But they have run into a ferocious hailstorm of protest, some from the very folks the financial firms say they hope to benefit, first and foremost – the six major movie studios.
"The reputation and integrity of our industry could be tarnished by allowing trading in the movie futures contracts in a manner which allows them to be viewed as the economic equivalent of legalized gambling on movie receipts," says Greg Frazier, executive vice president of the Motion Picture Association of America (MPAA), in an e-mail.
The trade group has requested a period of public discussion before any such exchanges gain final approval from the Commodity Futures Trading Commission (CFTC).
---