Hard hit Rhode Island looks to federal aid as floods recede
Rhode Island took the brunt of this week's floods, and the state will look to federal aid, along with flood insurance, to cover much of the worst damage.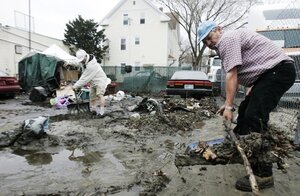 Newscom
After the floods of water come the floods of money.
New England states will see an influx of federal aid and insurance-claim dollars following March rainstorms that caused severe flooding.
It can't cover all the economic losses that homeowners and businesses face, particularly in Rhode Island. That state is bearing the brunt of this week's damage and is also among the states hardest hit by recession-related unemployment.
IN PICTURES: Springtime flooding in the US
Even as warm sunshine bathed the region Thursday, the region was still coping with high water that could linger for days in some areas – including areas of Rhode Island where river water has been contaminated with sewage from treatment plants overwhelmed by the storm.
Rhode Island Gov. Don Carcieri called the floods "another whack" at the state's economy. At a news conference Thursday, he said it's too early to tally the damage but that it will be at least in the tens of millions of dollars.
Still, President Obama's declaration of disaster zones in Rhode Island and Massachusetts this week mean that federal relief money is on the way. That, along with flood insurance, will cover much of the worst damage from the floods, which also reached into Connecticut.
---
Follow Stories Like This
Get the Monitor stories you care about delivered to your inbox.