On jobs vs. high unemployment, Obama has political balancing act
Latest figures show the US economy's strongest job creation performance in three years. That's good news for Obama, but amid high unemployment, he also needs to stress the plight of out-of-work Americans.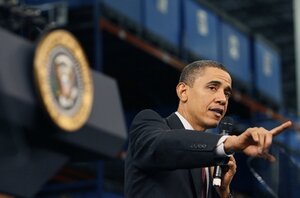 Alex Brandon/AP
Even new employment figures show the US economy's strongest job-creation performance in three years, the Obama White House knows that talking to Americans about jobs requires a delicate political dance.

The political challenge is to remind voters that progress is being made in battling unemployment as the 2010 congressional elections approach, while at the same time not appearing oblivious to the economic distress felt by the jobless.

New figures highlight both sides of the coin. On Friday, the government said employers created 162,000 jobs in March, including 48,000 temporary Census workers. But the same report noted that 15 million Americans are out of work. The number of those who have been jobless six months or more increased to a record 6.5 million.

President Obama took his job creation message on the road Friday, traveling to the North Carolina plant of Celgard LLC, which makes components used in lithium batteries. The company recently hired more workers using a $49 million Energy Department grant.

Mr. Obama hailed the new jobless numbers, saying, "today is an encouraging day."
But he quickly added: "Economic statistics don't do justice to the pain and anxiety that results from unemployment. Lasting unemployment takes a toll on families, takes a toll on marriages, takes a toll on children.… Being unable to find work – being able to provide for your family – that doesn't just affect your economic security, that affects your heart and your soul."
---
Follow Stories Like This
Get the Monitor stories you care about delivered to your inbox.