Why San Francisco's police chief is apologizing to Muslims
San Francisco Police Chief George Gascón has been meeting with Muslim leaders and groups, apologizing for remarks he made about preparing for terrorist attacks.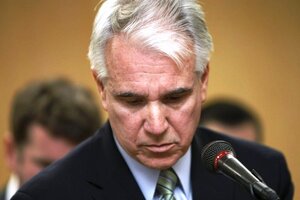 Paul Sakuma/AP
Ever since he suggested that this city's buildings needed fortification against possible attacks from Yemeni or Afghan residents, Police Chief George Gascón has been doing a lot of apologizing.
The San Francisco police chief made the comments last week when bolstering the case for an upcoming ballot measure for the construction of a new police headquarters and for other seismic improvements.
While Chief Gascón says he meant to make the point that San Francisco's building needed greater safeguards against possible attacks, the Muslim community didn't take too kindly to being singled out as culprits of any future domestic terrorism.
Since his remarks were reported last week, Chief Gascón has met with the Yemeni consulate, made amends with local Arab leaders, and spoke to more than 1,000 local Muslims following Friday prayers at a downtown San Francisco Holiday Inn.
'No offense intended'
"I never had the intent of creating an offensive situation," said Gascón. "I have the utmost respect for Yemeni and Afghan community."
The San Francisco police department moved quickly to make amends with the local Arab community with good reason. Local and national law enforcement agencies have been attempting to make inroads into local Muslim communities to improve counterterrorism operations.
---