Baseball: What's new this year?
As 'Play Ball!' rings out April 4, baseball fans debate the impact of high salaries and the post-steroid era.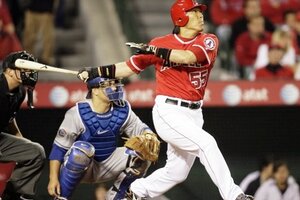 Francis Specker/AP
As Major League Baseball kicks off its new season April 4, part of the story will be a rerun from last year: The Boston Red Sox and New York Yankees – the twin suns around which the baseball universe revolves – will swing their bats center stage. Will they end up facing each other for a berth in the World Series?
But that's not the only story in baseball this spring. Yes, the designated hitter rule will be forever debated, but baseball is slowly changing. There's more emphasis on "small ball" – focusing on base hits and advancing runners – as the era of steroid-pumped home-run champs fades. Meantime, the core of baseball – a game of poetic pitfalls, played by fallible men and "designed to break your heart," as former MLB commissioner Bart Giamatti once wrote – endures.
High anticipation greets opening day 2010, as a winter-weary America welcomes the first sign of summer with new questions about the Sox-Yankees primacy, the evolution of the post-steroid game, the future of the designated hitter rule, which off-season moves will ultimately matter, and, of course, how da Cubs gonna do?
Will money buy a pennant?
---