Final Four: Test your trivia knowledge
The men's Final Four begins Saturday in Indianapolis. Will Butler have a home-court advantage? Will Michigan State be blown out again? The Monitor's master of trivia knows all.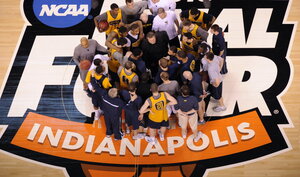 Mark J. Terrill/AP
Countless basketball facts are swirling around Indianapolis this week as the men's Final Four championship comes to the "crossroads of America."
One of particular relevance is that during the 71-year history of the NCAA men's basketball tournament's Final Four, seven teams have previously played in their home cities, with Butler University making it eight this year. (Butler sits five miles north of downtown Indianapolis.)
Of these, only three were able to parlay the home-city advantage into a championship: City College of New York (CCNY) in 1950, and UCLA twice, in 1968 and again in 1972.

Butler might benefit from some home cooking, but there's no reason to think the Bulldogs will gain any substantial boost from simply playing in Indianapolis.
Certainly, playing in their hometowns didn't do the trick for New York University in 1945, CCNY in 1947, Louisville in 1959, or Cal-Berkeley in 1960, when the Final Four was held in the Bay Area (San Francisco, to be exact).
---