How to plan better for New England floods
Changing rainfall patterns have increased the number and severity of floods. Better forecasts and improved flood management have helped, but planners need to do more to reduce risks and boost community resilience.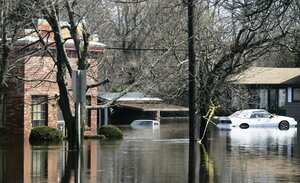 Newscom
As flood waters recede in rain-soaked New England, March's record-smashing storms highlight the need for planners in the region to place an increased emphasis on reducing flood risks and boosting their communities' resilience to floods.
Focus not only should be placed on nuts-and-bolts, concrete-and-rebar projects such as upgrades to roads, bridges, culverts, and municipal drainage systems. Planners need to update the basic information on rainfall intensity they use to determine the adequacy of their projects.
That's the view of several hydrology specialists, who note that changing rainfall patterns in the area alone have increased the number of floods and appears to have increased their average severity as well over the past 40 years – particularly in the last decade.
IN PICTURES: Springtime flooding in the US
The severe rainfall early this week rounded out a trio of intense rain storms during March. That sequence was unusual, acknowledges Paul Marinelli, who heads the US Army Corps of Engineers regional reservoir control center in Concord, Mass.
"But in the past five or six years we're getting to see more and more of this type of event," he adds, referring to the floods that coursed through the region.
Despite the hardship for large numbers of homeowners, business owners, cities, and towns in the areas hardest hit hardest hit by the region's floods, it could have been worse, Mr. Marinelli says. Winter snows in the region had long since melted by the time March's storms struck.
---