Tiger Woods press conference: at last, a glimmer of sincerity
The Tiger Woods press conference Monday at the 2010 Masters golf tournament dispensed with formal statements and, for the first time in public, hinted at a man trying to be better.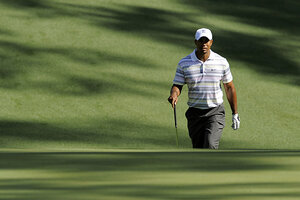 Newscom
For more than four months – since the first sordid speculation about Tiger Woods's collapsing life began – the world has been pleading for a Tiger Woods press conference precisely like the one he gave at the Masters golf tournament Monday: frank, open, and perhaps most important, having at least the ring of emotional authenticity.
But for Tiger Woods, it seems, the past four months were all about arriving at this moment.
A moment when, to sportswriters' astonishment, he addressed them all by their first names and called them friends. A moment when, far from snarling at photo-clicking fans during his practice round, he smiled at them and even acknowledged their support. A moment when, in this most emotionally trying time of his career, he acknowledged that golf "feels fun again."
IN PICTURES: Tiger Woods at the Masters
One press conference is not, in itself, a proof of sincerity. But it can be a guidepost. Whether Tiger Woods truly believes – as he said Monday – that, "going forward, I need to be a better man," will be the test of the rest of his life. But Monday was a good way to start.
There were still hints of the old Tiger. He was sorry, he said, that his fellow golfers had to field questions about crumpled Cadillac Escalades and the texts heard 'round the Web. And he hoped that now the media would leave them alone.
Admirable, perhaps. But also an ember of the man whose rigid control of every iota of his life led to an admitted attitude of rank entitlement.
'It was nice to see him smile'
Yet this was not the old Tiger.
"Good to see you, Tiger," said Connie Mickey of Columbus, Neb., as Woods played his second practice hole Monday, according to ESPN.com.
---