Why Mexico earthquake, stronger than Haiti's, did much less damage
The magnitude 7.2 Mexico earthquake on Sunday, centered in northern Baja California, did not inflict nearly the damage that the 7.0 earthquake did in Haiti. Credit quake-resistant building standards and, perhaps, the distance of population centers from the epicenters.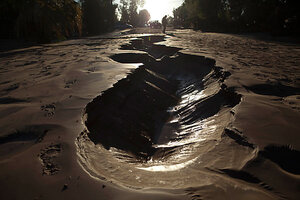 Guillermo Arias/AP
The magnitude 7.2 Mexico earthquake centered in northern Baja California inflicted widespread damage in the border towns of Calexico, Calif., and Mexicali, Mexico, Easter Sunday afternoon local time.
But the initial damage reports – and two known fatalities at this writing – paled before those that emerged from Haiti in February during a modestly weaker quake.
Seismologists credit two broad factors for the difference: better quake-resistant building standards north and south of the border, and the characteristics of Sunday's temblor.
IN PICTURES: Mexicali earthquake
"California building codes are very rigorous," developed and refined after years of experience with earthquakes and experiments in the lab, where buildings up to seven stories tall can be placed on huge shaking tables and given a simulated geophysical once-over, observes Debi Kilb, a seismologist at the Scripps Institution of Oceanography in La Jolla, Calif.
---