Virginia governor: Is it so wrong to love the Old South?
The Virginia governor, Bob McDonnell, is reinstating Confederate History Month. But that brings back ideas and symbols of the Old South that are offensive to many Americans – including many Southerners.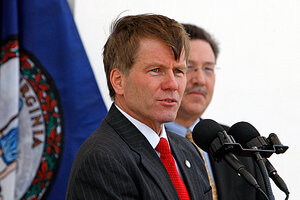 Bob Brown/Richmond Times-Dispatch/AP
After living through a decade of attacks against the Confederate battle flag and school administrators suspending students who wear Dixie regalia, Virginia Gov. Bob McDonnell (R) is, like a true Johnny Reb, fighting back.
By reinstating Confederate History Month after previous Democratic governors banned it in the Old Dominion, Governor McDonnell says he wants to remember the South's sacrifices ahead of sesquicentennial commemorations of the Civil War, which start next year. This is the state that housed the Confederate government in Richmond and where most of the Civil War, the country's bloodiest campaign, was fought.
But the designation by the Virginia governor for the month of April is bringing back ideas and symbols that many Americans – including many Southerners – find offensive and divisive. It could derail efforts to win favor among Democrats, not to mention Southern blacks, and it could drive a cultural wedge into the Republican Party as it looks for ways to win in November.
On the other hand, McDonnell's proclamation could also rally a substantial conservative base that's felt beleaguered by attempts to, if not rewrite, effectively banish Confederate history.
Some see those attempts as part of a political correctness movement. "If the proclamation does anything, it hopefully will be a nail in the coffin of political correctness," writes Brag Bowling, commander of the Virginia division of the Sons of Confederate Veterans.
---