West Virginia coal mine still too toxic for rescue mission
Rescue efforts were focused on drilling holes into the coal mine in Montcoal, West Virginia, to vent toxic gas. But Wednesday evening, the situation was still too dangerous to send in a team.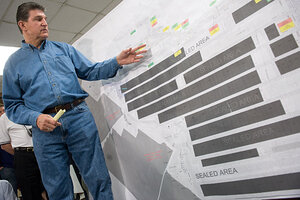 Newscom
Families of the four miners still missing after Monday's explosion in the Upper Big Branch coal mine were holding out what West Virginia Gov. Joe Manchin called "a sliver of hope" on Wednesday that the miners made it to one of the mine's sealed rescue chambers.
Rescue efforts continued to be delayed as officials waited for toxic gas to abate to safe levels. Crews had drilled one hole to release gas, were working on two more, and had planned a fourth and fifth by Wednesday evening. But methane levels were still dangerously high, and the presence of hydrogen and carbon monoxide gases was complicating efforts.
"We just can't take any chances of the rescue teams going into an area that could in and of itself cause a problem or an explosion or put them in a smoke concentration," said Kevin Stricklin of the Mine Safety and Health Administration (MSHA) at a briefing.
---