West Virginia disaster: Will Congress take on coal mining companies?
Mining companies have been slow to adopt new safety requirements. Critics say the West Virginia disaster shows that Congress needs to step in. The industry says it needs clearer guidance.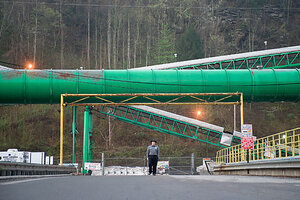 Bob Bird/AP
The deaths of 25 coal miners in West Virginia Monday in what is considered the worst mining accident in a quarter century is raising questions about whether a congressional overhaul of mine safety four years ago went far enough.
The Mine Improvement and New Emergency Response (MINER) Act, passed in 2006 in response to a disaster in Sago, W.V., that killed 13 miners, was intended to improve miner safety by mandating the installation of preventive and emergency technologies.
But Massey Energy Company, the company that owns the Upper Big Branch South Mine in Whitesville, W.V., where Monday's accident happened, has been leveled numerous fines for environmental and safety violations in recent years.
Moreover, only 14 percent of mines have complied with MINER Act requirements to install improved communications systems.
This suggests that the MINER Act is not thorough enough in leveling consequences for mining companies or for establishing a timeline for coming to compliance, say several experts. The result is that the Mine Safety and Health Administration (MSHA) – the federal agency charged with monitoring coal companies and making them comply with safety standards – essentially has its hands tied.
---