START or ending? Why more nuclear weapons cuts will be hard.
The new START treaty, signed today, is a step toward a world free of nuclear weapons, President Obama said. But China's ambitions and Russia's worries could make future cuts difficult.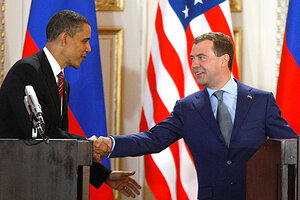 Mikhail Metzel/AP
As he signed a new treaty with Russia Thursday that will reduce the nuclear weapons in US and Russian arsenals by one-third, President Obama called the milestone "one step on a longer journey" that "will set the stage for further cuts."
But if Mr. Obama found reaching a new Strategic Arms Reduction Treaty (START) more arduous and frustrating than he had anticipated – Obama missed his original deadline of early December for reaching an accord – moving on to additional arms cuts will be even more daunting.
Appearing in a glittery reception hall in the Czech capital of Prague alongside Mr. Medvedev, Obama offered a partial list of the next steps he hopes to take: further reductions in strategic weapons, cuts in the tactical weapons the two countries have focused on Europe, and an effort to reduce stockpiles of non-deployed weapons on each side.
The next stretch of the nuclear-reduction path is likely to be considerably steeper, however, arms experts say.
Hurdles to more cuts
---