Slavery vs. Confederate History Month: ripe for political point-scoring
After restoring Confederate History Month in Virginia, Gov. Bob McDonnell amended his proclamation to decry slavery. Both the left and the right have used the occasion to score political points, sometimes twisting the historical record to their own ends.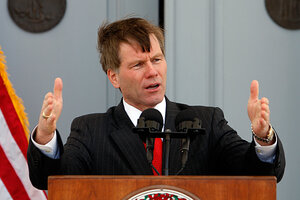 Bob Brown/Richmond Times-Dispatch/AP
To many Southerners, Virginia Gov. Bob McDonnell's decision to reinstate Confederate History Month is simply a correction of the historical prism through which contemporary America sees the war that nearly broke the United States in two.
To many other Americans, however, Governor McDonnell's proclamation this week is a tip of the hat not just to the Old South, but also to the institution of slavery that defined life in the colonies as far back as 1607, until the Confederacy's demise with Gen. Robert Lee's surrender at Appomattox on April 9, 1865.
But both sides, rather than ferret out the multilayered truths and painful lessons of a bloody Civil War, are engaging in a tactic New York Times columnist Gail Collins called a "miracle of obfuscation," in which the battlefield is primarily the political arena.
---