Tariq Ramadan visits US. Part of a fresh start for West and Islam?
The US has lifted a 6-year-old ban on Muslim scholar Tariq Ramadan entering the US. His visit may go a long way in advancing Obama's goal of starting a new dialogue with the Muslim world.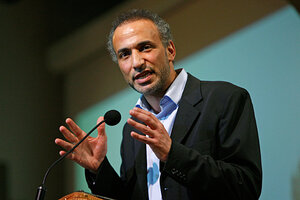 Kathy Willens/AP
Soon after Muslim scholar Tariq Ramadan discovered that the 6-year-old ban on him entering the United States had been lifted, he said the decision marked a new openness coming from America.
President Obama talked last summer about forging a "new beginning between the United States and Muslims around the world," but many liberal critics have complained that he hasn't stepped far enough away from Bush administration policies that have embroiled relations with the Islamic world.
But images of Mr. Ramadan traveling to at least six lectures across the US in the coming weeks may go a long way in advancing Mr. Obama's goal of starting a new dialogue with the Muslim world. Ramadan is an Oxford professor who has been dubbed a "rock star" among many young European Muslims.
He was barred from coming to the US in 2004, first under a provision of the Patriot Act that allows the US to keep out anyone suspected of espousing ideas that support terrorism. While the government backed away from that initial reasoning, which kept him from taking a teaching job at the University of Notre Dame, it later said Ramadan contributed to an organization that funneled money to Hamas, the Palestinian group the US considers a terrorist organization.
---