With no survivors in West Virginia mine blast, focus shifts to responsibility
Investigators say 'no stone will be left unturned' in finding the cause of the Upper Big Branch mine explosion. Criminal charges are rare following mine disasters, and causes for explosions can be complex.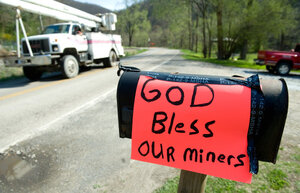 Newscom
Rescuers working 1,000 feet underground in the Upper Big Branch mine returned to the surface early Saturday morning with bad news: There were no survivors left in the worst US coal mining accident in 40 years. Twenty-nine died.
"We did not receive the miracle that we prayed for," Gov. Joe Manchin said in a barely-audible voice. "So this journey has ended and now the healing will start."
But healing isn't all families, investigators and even President Obama want: Capping off a draining and sadly familiar scene in Appalachian coal country, Americans now turn inevitably to the next question: Who – or what – is responsible?
IN PICTURES: West Virginia mine explosion

The investigation is sure to once again test the uneasy tension between coal operators and safety regulators as mine experts try to reconstruct what caused the ripping blast – and whether it could have been avoided.
Tougher laws sought
---