Returned Russian child spotlights international adoption problems
The case of a mother sending her adopted Russian child back could slow or even stop US-Russia adoptions. Russia was the No. 3 country for US international adoptions last year.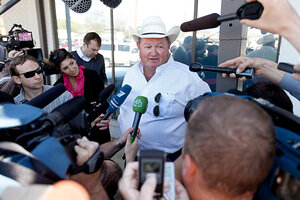 Josh Anderson/AP
The case of Torry Hansen – the Tennessee mother who sent her 7-year-old adopted Russian child back to Moscow claiming he had severe psychological problems – is turning into a test for the international adoption vetting process.
Generally speaking, it emphasizes the need to ensure that potential parents are scrutinized thoroughly and understand the system they are adopting from. But specifically, many experts worry about negative fallout from the case, which has led some Russian officials to call for a halt to all US adoptions until new and clearer procedures can be spelled out.
"There is a lot we don't know about this case," says Adam Pertman, executive of the Evan B. Donaldson Adoption Institute. "But I am concerned already that people are going to look at this story and say, 'Look what happens,' and strike Russia off their list or choose not to adopt at all."
"One story should not negate the good that happens to tens of thousands of children," he says.
Number of children adopted from Russia has dropped
---