Obama NASA plan: Mars shot as next generation's Apollo mission
According to President Obama, NASA needs a goal beyond the space station and the moon for human spaceflight to inspire the nation as the Apollo mission did. He has chosen Mars.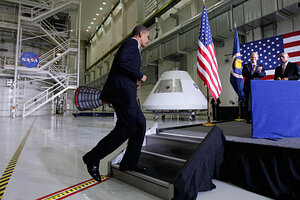 Alex Brandon/AP
The US human spaceflight program is on a course for Mars – future budgets, presidents, and Congresses willing.
In a speech delivered at the Kennedy Space Center in Florida Thursday afternoon, President Obama aimed to answer charges leveled by lawmakers, former astronauts, and former National Aeronautics and Space Administration (NASA) officials that his plans for the space agency spell doom for the country's human spaceflight program.
In February, the White House released a proposed budget that canceled former President George W. Bush's Constellation program, which set a deadline of 2020 to put US astronauts back on the moon for the first time since the final Apollo mission.
Instead, the White House opted for what a presidential commission identified last year as a more financially sustainable program – one that would allow American astronauts to leapfrog the moon and begin visiting more-distant solar-system destinations during the decade of the 2020s and beyond.
---