Chicago: First US city to regulate coal plant air pollution?
A Chicago alderman has forwarded a proposal for the city to regulate coal plant emissions. It is part of an ongoing effort to address serious air pollution problems in the city.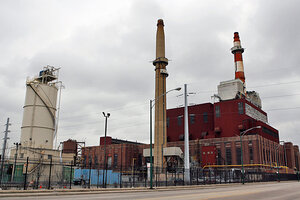 Nam Y. Huh/AP/File
A group of Chicago alderman are proposing to make Chicago the first US city to regulate coal plant emissions.
The group, led by Alderman Joe Moore, wants to crack down on two coal-producing plants that operate within the city limits. The plants contribute to Chicago's worst-in-the-nation rating among metropolitan areas for a certain type of air pollution produced by cars, factories, and coal-fired power plants.
US Environmental Protection Agency measurements of nitrogen oxides, a key ingredient in smog, showed that Chicago averaged 116 parts per billion, measured every hour, from 2006 to 2008. That was the highest of any major US city, with San Diego coming second at 87 parts per billion.
In fact, Chicago would be the only city to fail a new standard for nitrogen-oxide regulation proposed by the EPA in January. Its threshold would be 100 parts per billion.
Chicago's clean-air problem
Chicago's nitrogen-oxide levels are elevated in part because of where the monitoring system is located, says Brian Urbaszewski of the Respiratory Health Association of Metropolitan Chicago. It sits at the intersection of two major interstates, guaranteeing dense automobile traffic no matter the time of day, he adds.
But it also sits downwind from Chicago's two coal plants, and Moore is trying to focus attention on those plants.
"There's more people in close proximity to these plants than anywhere else in the country," says Mr. Urbaszewski.
Moore's ordinance would give the owner of the two plants, Midwest Generation, a timeline to modernize pollution controls and to limit emissions.
---