Oklahoma City bombing: Is 1995 repeating itself today?
Americans observed the 15th anniversary of the Oklahoma City bombing Monday. Some believe that the extremist political climate in which the bomber, Timothy McVeigh, operated is resurging.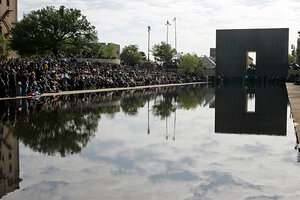 Sue Ogrocki/AP
It's been 15 years since Timothy McVeigh blew up an Oklahoma City federal building with a truck bomb. One hundred and sixty eight people died, and more than 600 others were injured, in what remains America's worst-ever case of home-grown terrorism.
Since that day, US law enforcement has been on guard against a repeat of such an attack. To see how much the Oklahoma City bombing changed the federal government, just look at the new Washington headquarters of the Bureau of Alcohol, Tobacco, Firearms and Explosives. It's protected by a barrier that looks like a giant concrete and steel fence, which is designed to prevent any explosives-laden vehicle from getting close to the building.
But assaults on symbols of Uncle Sam continue. In February, for instance, a pilot with a grudge against the government flew a small plane into an Internal Revenue Service office in Austin, Texas. Could a disaster on the scale of Oklahoma City ever happen again?
Bill Clinton, who was president at the time of Mr. McVeigh's assault, is among those who think the political environment of today has some dangerous similarities to that of 1995. He's talked a lot about it in recent days.
---