Transocean Deepwater Horizon oil rig explosion shows new risks
Major mishaps aboard oil rigs are rare. But accidents like the Transocean Deepwater Horizon oil rig explosion show the risks as companies explore farther and drill deeper.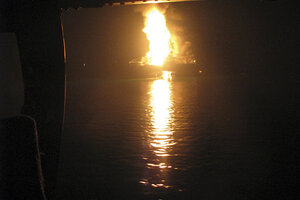 Petty Officer 2nd Class Scott Lloyd/US Coast Guard/AP
The dramatic oil rig explosion and fire aboard the Transocean Deepwater Horizon rig 50 miles off the Louisiana coast illustrates the growing risk for oil companies as they drill ever deeper into the earth's crust to satisfy domestic and international demand for fuel.
As the US moves to open up more deep water areas for oil exploration and companies prepare to open up deep reserves off the coast of Brazil and Angola, the possible explosion and fire aboard the Deepwater Horizon rig, owned by Houston-based Transocean and leased by BP, is a reminder of how the task of supplying the world's oil amid dwindling reserves is becoming ever-more complex – and dangerous – despite technological advancements.
"Deep water drilling is already a high-stakes casino and as geologic risk, capital risk, market risk and engineering risk all come together, they are becoming extraordinarily difficult to quantify," says Robert Bryce, an energy expert at the Manhattan Institute and author of the upcoming book "Power Hungry: The myths of 'green' energy and the real fuels of the future."
---