College graduation to go green with eco-friendly caps and gowns
A small but growing number of colleges are going green by offering eco-friendly caps and gowns for college graduation.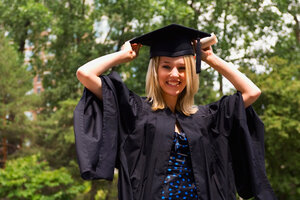 NEWSCOM
As colleges strive to go green, it's getting harder to justify the waste generated amid the pomp and circumstance of commencement. Now they can walk the walk by ordering eco-friendly caps and gowns.
When Rachel Rohatgi dons her black gown Monday to graduate from California Western School of Law, she'll be reusing the equivalent of about two dozen plastic bottles. Aside from it being "really cool" to have a gown that helps the environment, she says, the fabric is literally cooler than her "heavy and itchy" undergraduate gown.
"Since we live in San Diego ... I'm really excited to not sweat all over my dress," she says.
The school has already greened past graduations by using recycled paper and soy ink for its programs and serving paper-wrapped cupcakes instead of cake on plastic plates. Its December degree recipients were the first law school graduates in the country to wear the GreenWeaver recycled-bottle gowns made by Oak Hall Cap & Gown in Salem, Va.
A small but growing trend
"I hope a lot of other schools move in this direction," says assistant dean Kathleen Seibel. "It's good for the environment, it's good for the students, it's cost effective, and, for us, it's part of our overall commitment to sustainability."
---