Obama's vow to West Virginia coal miners at service: better safety
President Obama addressed the families of 29 West Virginia coal miners who died in a mine explosion earlier this month. Miners say they hope he will honor his pledge of better safety, but many are skeptical.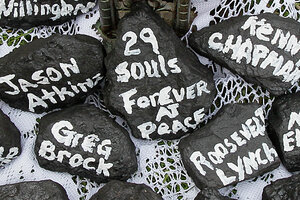 Amy Sancetta/AP
Black ribbons fluttered in the breeze as a homemade pinwheel bearing 29 names turned slowly, lending a splash of color to an otherwise overcast day in southern West Virginia.
Here, residents are still coming to grips with the state's worst mining disaster in more than two decades. Part of that process continued Sunday, when President Obama spoke at a eulogy for the 29 coal miners who died in the accident.
It was with that awareness that Mr. Obama offered not only condolences, but also a concrete commitment to mine safety reform.
"In the days following the disaster, e-mails and letters poured into the White House," Obama said. "Postmarked from different places, they often begin the same way: 'I am proud to be from a family of miners,' 'I am the son of a coal miner,' 'I am proud to be a coal miner's daughter.' They ask me to keep our miners in my thoughts. Never forget, they say, miners keep America's lights on. Then, they make a simple plea: Don't let this happen again."
A cause has not been determined in the April 5 accident at Upper Big Branch Mine in Montcoal, but preliminary investigations by the Mine Safety and Health Administration suggest excess accumulations of methane gas and coal dust could be to blame.
---