Airlines: First it was the baggage fees. What's next? Pay toilets?
Airline surcharges, such as baggage fees, are expanding because they bring in big money. But with airfares reasonable, the impact on the cost of airline travel appears to be a wash.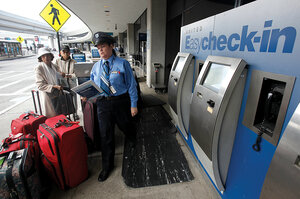 Tony Avelar/The Christian Science Monitor/
With the busy summer travel season just ahead, airline passengers are asking: Where will the surcharges end?
Most airlines now charge for checked luggage, which once was transported for free. Some now ask $8 for a tiny pillow and a thin blanket that barely covers your knees. Meals in economy class are mostly a distant memory. Are airlines planning additional surcharges, or might passengers revolt against more and more fees?
How much extra money do airlines make on surcharges?
Ancillary revenues, as the airline industry prefers to call them, are big moneymakers. They generate hundreds of millions of dollars for the beleaguered carriers, says Seth Kaplan, managing partner of Airline Weekly. For example, American Airlines alone made close to $300 million from surcharges in 2009.
Industrywide, income from the new a la carte charges – slapped on everything from checked bags to boxed snacks and changed reservations – hovers in the $7 billion to $10 billion range, writes Allison Danziger of TripAdvisor in an e-mail.
These fees now make up roughly 20 percent of the industry's revenues, adds Bill Miller, senior vice president of CheapOair.
---