One school's anti-bullying idea: 'No Name Calling Day'
A Massachusetts elementary school lobbied successfully to get 'No Name Calling Day' written into state anti-bullying law.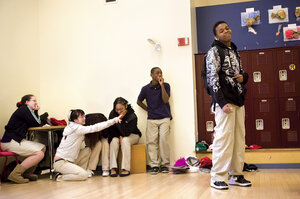 Taylor Weidman/The Christian Science Monitor
Name-calling may not cause the same kind of hurt as sticks and stones – but the common taunts of "freak," "retard," or "sissy" can cut deep. Even before bullying hit the headlines because of student suicides in Massachusetts, elementary-school children here in quaint Cape Cod had taken their stand against teasing all the way to the state capitol.
"No Name Calling Day" – a time for activities to help replace verbal bullying with respect – has been so successful at the Quashnet School in Mashpee that student organizers asked legislators to recognize the day statewide. It's now part of the antibullying law that is soon expected to be finalized.
"You only want to be called one name: your name," says sixth-grader Rachel Bridges.
Over the course of not just a day but a whole week this January, she and others in the Kiwanis-sponsored K-Kids club promoted anticyberbullying lessons; wrote and performed a play about being teased on the kickball field; and held a mix-it-up lunch, where kids sat with random peers and high school student discussion leaders.
Since then, they've seen a big difference in the way classmates treat one another. Reputed bullies "really came along, because they're now noticing what they're saying, and then saying, 'Oh my gosh, I'm so sorry,' " Rachel says.
Fourth-grader Grace Shinn, whose pink T-shirt bears a giant peace symbol, adds that "people really thought, 'Is that really what I want to do – make people's feelings hurt?' "
---