Gulf of Mexico oil spill could be bigger than Exxon Valdez
The US military has joined the effort to contain the Gulf of Mexico oil spill. It's been declared an event of 'national significance,' meaning more resources will be available.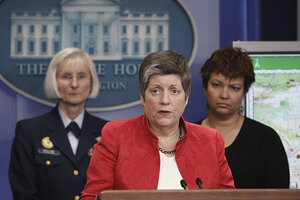 Pablo Martinez Monsivais/AP
A task force has thrown everything – including fire – at the Gulf of Mexico oil spill to keep it from sloshing into an area that holds 40 percent of the lower 48 states' coastal wetlands. The creeping slick of light crude oil has been declared an event of "national significance," signaling that the federal government is ramping up its response, with the US military also now joining federal and private resources.
But what's being described as "globs of roofing tar" are already washing up on the Chandeleur Islands off Louisiana, and new reports suggest that the renegade wellhead at 5,000 feet below the ocean surface in the Mississippi Canyon is leaking five times as much oil as previously thought.
The news raises fresh questions about the adequacy of the response, and whether – or to what extent – it will actually succeed.
Vastly unlike the quick leak and "black tide" of the Exxon Valdez tanker disaster off Alaska in 1989, the Deepwater Horizon leak is an "unprecedented type of spill" that has overwhelmed available resources, says Ed Overton, an emeritus professor of environmental science at Louisiana State University.
---