Oil spill's human impact: Oil and fish define south Louisiana's working life
Whether it's fish and shrimp or oil and gas, working on the water is a way of life for many people. But that life could change now with the massive Deepwater Horizon oil spill in the Gulf of Mexico.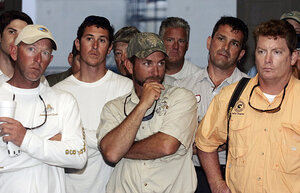 Patrick Semansky/AP
Tony Fricke's office window offers a harbor side view of two industries that for several generations have been the life blood of south Louisiana – fishing and oil.
Site supervisor of the Venice port complex, he oversees the harbor at the mouth of the Mississippi where commercial fishing boats and oil rig tenders weigh anchor for the Gulf of Mexico. Half of Plaquemine Parish's 23,000 residents make their living on the water. But over the past week and for the foreseeable future, fishing has given way to containing the massive and on-going Deepwater Horizon oil spill.
Fricke grew up working in the nearby Venice Boat Harbor, at his parent's marina store serving charter fishing boats. After graduating from Booth-Venice High School, he spent eighteen years working for an oil distribution company, his duties including ferrying fuel barges up the Mississippi.
IN PICTURES: Louisiana oil spill
"If you're born and raised here, working on the water is a way of life," said Fricke. "Commercial fishing, charter fishing, and working in the oil industry, that's what most people do to make their living. But the most jobs and best paying ones are working for the oil companies."
---
Follow Stories Like This
Get the Monitor stories you care about delivered to your inbox.