Current timeline to shut down Gulf of Mexico oil spill: three months
Federal officials gave a sobering appraisal of the Gulf of Mexico oil spill Sunday, with Interior Secretary Ken Salazar saying 'ultimate relief' was 90 days away.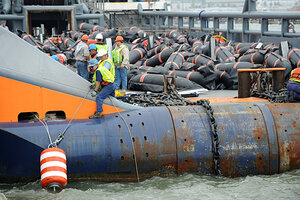 Newscom
Federal officials speaking about the Gulf of Mexico oil spill Sunday morning appeared to be steeling the Louisiana coast – and the nation – for consequences that could be "catastrophic."
The officials, who run the agencies charged with mitigating the impact of the spill on America's Gulf coast, used unusually stark words to describe the situation and the difficulties of the remedy.
Interior Secretary Ken Salazar said it was the federal government's job to "keep the boot on the neck of BP," which is running the cleanup effort.
IN PICTURES: Louisiana oil spill
Coast Guard Commandant Thad Allen called the bid to shut down a wellhead spewing at least 210,000 gallons of oil a day from nearly a mile beneath the ocean surface "one of the most complex things we've ever done."
He went on to say that, in a worst-case scenario, the well could vent 4.2 million gallons of oil into the Gulf daily. Currently, a crumpled "riser" pipe is preventing the full flow of oil – like a kinked garden hose – though reports suggest it is gradually deteriorating.
The comments were prelude to President Obama arriving in Louisiana Sunday to assess the situation.
---