Irked by BP, Gulf of Mexico towns mull Plan B to halt oil spill
Louisiana Gov. Bobby Jindal is drafting his own plan with parish leaders to combat the Gulf of Mexico oil spill. The goal is to build a 'second line of defense' to protect vital wetlands.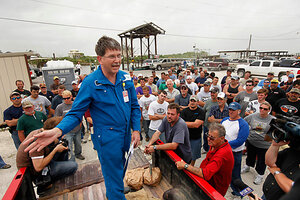 Gerald Herbert/AP
High winds and rough seas in the Gulf of Mexico are hampering operations by BP to contain the looming oil slick threatening Louisiana's endangered wetlands, as the oil company's efforts are being questioned by both Gov. Bobby Jindal and local residents enlisted to fight the spill.
Noting that the spill "threatens our way of life," Governor Jindal said at a press conference on Saturday afternoon that he is "past the point of waiting for clean up plans from BP" and is drafting his own with parish leaders. The goal is to build a "second line of defense" in front of Louisiana's wetlands.
For now, 300 boats remained docked in Plaquemines Parish. BP's efforts to pay local fishermen to put down oil booms is faltering, with fishermen confused about the the details of BP's Vessel of Opportunity.
IN PICTURES: Louisiana oil spill
But this weekend, the weather has been perhaps the greater concern, as a southerly front with wind gusts of 30 miles per hour kicks up waves of six to eight feet offshore. A BP spokesperson said weather has limited the ability of smaller boats to safely deploy oil booms, though larger skimmer ships continued cleaning oil from the surface.
On Saturday afternoon at the Cypress Cove Marina in Venice, for example, workers wearing safety helmets and life vests stood idly on the docks as steel flat boats loaded with 1,500 feet of orange nylon oil boom sat moored to pilings.
---