Distrust hampers BP effort to enlist fishermen in oil spill flight
The BP plan is to pay fishermen to deploy booms from their own boats. Fisherman want to help combat the Gulf of Mexico oil spill, but a liability form is causing widespread confusion.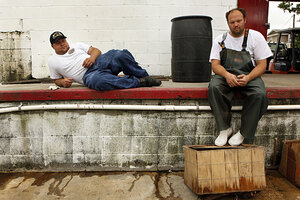 Newscom
A BP program aimed at employing fishermen to help the company protect coastline from the Gulf of Mexico oil spill is being undermined by confusion and distrust.
BP's Vessel of Opportunity program is promising to employ hundreds if not thousands of boatmen across the Gulf. The company will pay them to take out their own boats and deploy containment booms along the coast, provided they complete a five hour safety and hazardous materials handling course first.
But a liability waiver issued to boatmen Plaquemines Parish this weekend spread confusion, with many fishermen worried that signing the waiver would forfeit their rights to file a claim against BP for economic losses they've suffered from the spill, though BP has said that is not the case. Moreover, others said the oil company was offering too little pay for the work.
IN PICTURES: Louisiana oil spill
It is a glimpse at the difficulty of attempting to marshal resources along the Gulf coast to fight the spill – even among those who arguably stand to lose the most from the disaster.
---