How to stop the BP oil spill: What else can be tried now?
BP has failed to manually shut the blowout preventer, and it could take three months to drill a relief well. Before then, BP will try to put a giant hood over the leaking wellhead, or perhaps even install a second preventer. But no short-term options have a proven track record to stop an oil spill.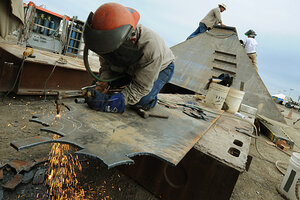 Newscom
As oil from an offshore drilling blowout spreads across the northern Gulf of Mexico, engineers are scrambling to staunch the flow of crude with everything from deep-sea submersibles to a little-tested approach for capturing the oil in a special structure hovering just above the well head, then pumping the crude into waiting ships or barges.
The need for a menu of approaches illustrates the challenges to capping a blow out some 5,000 feet below the sea surface.
"There is a silver bullet; it's drilling relief wells," says Jerome Milgram, an ocean engineering professor at the Massachusetts Institute of Technology in Cambridge, Mass., who has extensively studied ocean-rig blowouts and their effects.
---