Town where Katrina made landfall now braces for BP oil spill
Waveland, Miss., still bears the marks of Katrina in trailers, unfinished construction, and a closed waterpark. Now, the BP oil spill is threatening its coast. Residents wonder if the town can survive.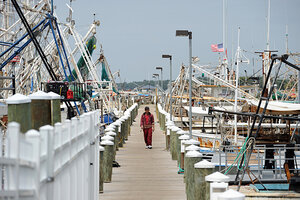 Newscom
The brand new fishing pier of this Gulf coast city is virtually deserted, and it is no wonder why. "All you hear on the radio is oil, oil, oil," sighs Gabe Stockfleth, the pier's manager.
Southeasterly winds are pushing acre upon acre of oil-darkened water from the BP oil spill toward Waveland, depriving the pier of its usual complement of fishers of red snapper, speckled trout, and wahoo. But the winds are also bringing something else: a sense of déjà vu.
This is the place where hurricane Katrina first touched land in August 2005. Now, it again stands as a literal beachhead for forecasts of catastrophe – a community whose needs are so dire that President Obama has given the mayor a special phone number to reach him directly.
---