Why the Times Square bomb failed spectacularly
The Times Square bomb failed to go off because it was badly constructed and poorly designed. But other bombs made of easy-to-obtain ingredients have caused mayhem, which analysts say was the intent in New York City, too.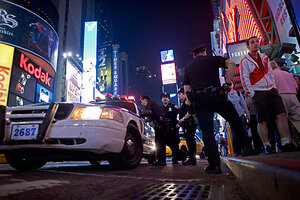 David Goldman/AP
Why didn't the Times Square bomb explode? It failed to go off because it was both badly constructed and poorly designed, say experts.
The homemade bomb – discovered as it fizzled and smoked at a landmark US crossroads – was a strange combination of ingredients, notes John Pike, head of GlobalSecurity.org.
It was composed of gasoline, propane tanks, fertilizer, and consumer-grade fireworks, according to information released by New York City police. But gasoline does not explode – it burns. Propane does explode, but only when mixed with air in precise quantities. And the fertilizer doesn't appear to have been mixed with fuel oil, which is a prerequisite to making the sort of fertilizer explosive with which Timothy McVeigh destroyed the Oklahoma City federal building.
Even bungled attacks can be serious, however.
"Just because [the perpetrator or perpetrators] was incompetent doesn't mean they didn't have evil intent," says Mr. Pike.
Alarm clock and fireworks
According to police, the detonating agent of the car bomb was a cheap-looking alarm clock attached to a 16-ounce can of fireworks – the sort of small explosives one can buy at roadside stands in certain states before the Fourth of July.
New York's mayor noted that the fireworks could have been purchased in Pennsylvania and driven into New York City. The wiring linking the bomb's parts together appeared crude, he said.
"It looked amateurish, I think, is a nice way to phrase it," Mayor Michael Bloomberg told reporters following the attack.
---