Times Square bomber joins the growing list of inept terrorists
Like the Christmas Day 'underwear bomber,' the Times Square bomber apparently bungled the job. The 9/11 attacks might have led to a false sense of terrorists' competence.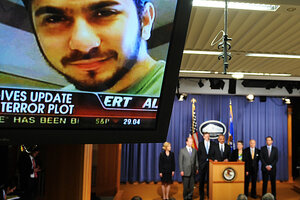 Newscom
Have Al Qaeda and associated Islamist terror groups become incompetent?
After all, the car bomb used in Saturday's failed Times Square attack was a fizzle. FBI Deputy Director John Pistole on Tuesday said the bomb "does not appear to us to be the most sophisticated device."
Faisal Shahzad, the Pakistani-born US citizen arrested and charged with the attempted attack, appears to have had little real training in explosives technique, according to US officials. And the Times Square bungle was preceded by the Christmas Day incident in which a Muslim Nigerian man on a Northwest Airlines flight tried, and failed, to ignite plastic explosives sewn into his underwear.
Are these twin flops evidence of systemic ineptitude? Perhaps. But it is at least as likely that they show Al Qaeda and its allies have moved towards a new, more decentralized, method of targeting the US and other Western nations.
A new terrorist model
"The new terrorist model might be lightly trained individuals deployed as quickly as possible in hopes they succeed," says Juan Zarate, senior adviser at the Transnational Threat Project at the Center for Strategic and International Studies.
---