'Los Suns' Cinco de Mayo statement: protest on a tank top
The Phoenix Suns players decided to wear their Spanish 'Los Suns' jerseys to tonight's Cinco de Mayo playoff game to protest the new Arizona immigration law. It's the latest example of America's often-contradictory views on illegal immigration and the Hispanic community.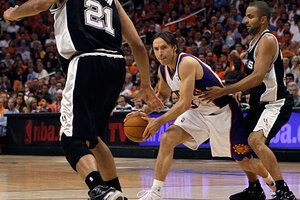 Joshua Lott/Reuters
The calendar provides ample reason for basketball's Phoenix Suns to rename themselves "Los Suns" in their playoff game against the San Antonio Spurs tonight: It is Cinco de Mayo. But in truth, the calendar is merely providing the cover for the Suns' protest against the tough new Arizona immigration law.
Steve Kerr, the Suns' general manager, told the Arizona Republic that players felt it was their "duty" to make a statement about the Arizona law during a nationally televised event.
"It's important that everyone in our state and nation understands that this is an issue that needs to be explored," Mr. Kerr said. "So, we're trying to expose it."
The prospect of the Suns and their players making a bald political statement on the hardwood is rare enough. Blurring the line between sports and politics risks offending diverse fan bases, so it generally doesn't happen.
But the decision also highlights a broader nation that holds splintered and often contradictory views toward its Hispanic community in general and illegal immigration in particular. For example, a majority of Americans support the Arizona law, according to several polls. But a majority of independents – who occupy America's political center – support some form of amnesty for illegal immigrants already in the country, according to a recent poll by Ayres, McHenry & Associates, Inc.
---