Gulf oil spill: Questions unanswered, residents try legal action
State attorneys general, commercial fishing organizations, and environmental groups are pressing BP to provide more information on the cause of the massive Gulf oil spill.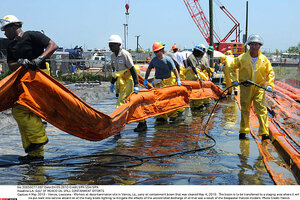 Newscom
In the wake of the Gulf oil spill, rig operator BP has produced apologies, jobs for local fishermen to aid in the recovery efforts, and a promise to pay for all cleanup costs.
But what it hasn't yet produced are answers to why the explosion happened and how exactly it plans to compensate local fishermen – unanswered questions that, three weeks after the explosion, are frustrating all those affected by the disaster, including leaders of gulf coast states and fishing operators.
"All these fishermen here are really uncertain of what the future holds," says Lance Nacio, who operates a four-person shrimping operation in Dulac, La. "What I would like to hear is some kind of contingency plan for lost revenue compensated for damages now and into the future."
IN PICTURES: Louisiana oil spill and Destructive oil spills
As expected in disasters of this magnitude, lawsuits seeking damages are being filed daily. At last count, 50 complaints against BP and involved parties such as Halliburton Energy Services, which was in charge of the underwater well cap, seek millions of dollars for lost revenue.
A temporary fishing ban on the Mississippi River's fertile east waters could not only devastate local charter companies and seafood operators, it has the potential to hurt local restaurateurs and hotels as well as municipalities that depend on tax revenue.
What about lost business revenue?
---