As BP oil spill fight continues, more areas closed to the public
As efforts continue to stop the flow from the BP oil spill, areas used for recreation and fishing are being closed to public access. It's a blow to recreational and commercial fishing businesses.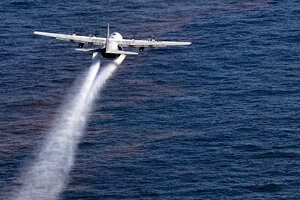 Newscom
With confirmed sightings of oil across a 50-mile chain of islands that line Louisiana's Southwestern coast, the National Oceanic and Atmospheric Association (NOAA) has ordered the affected area closed to public entry. The agency also expanded an earlier ban on fishing in the area east of the Mississippi River.
Last Sunday, NOAA announced a ten-day ban on all recreational and commercial fishing between the mouth of the Mississippi River and Florida's Pensacola Bay. That set off alarms for the state's fishing industry, which is the second largest in the US, producing up to 25 percent of the total domestic seafood in the lower 48 states. Commercial fishermen harvested more than 1 billion pounds of finfish and shellfish in 2008.
The Chandeleur Islands chain represents the first shorelines to receive oil from the April 20 BP oil spill and tanker collapse that NOAA says is releasing 210,000 gallons of oil per day into the Gulf of Mexico. The US Fish and Wildlife Service closed the islands Friday after sightings showed oil on both sides of the chain's southern half.
---