Gulf oil spill's environmental impact: How long to recover?
What scientists know about how oil spills affect the environment is drawn from a range of past events, no two of which have been alike. Because the blowout occurred 5,000 feet below below the water surface, the Gulf oil spill is unchartered territory.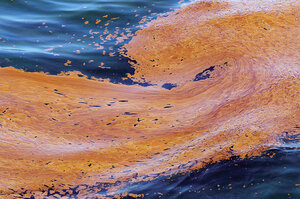 Eric Gay/AP
Grand Isle, La.; and Boston
For four days, Myron Fischer has taken time to stroll the beach here on Elmer's Island – a small, fragile barrier island and newly minted state wildlife refuge on Louisiana's Gulf Coast.
Occasionally, he wades into the water to get a closer look at seabirds bobbing and drifting on the sea surface. He returns to the sand, shells cracking under his boots, and says that these patrols are "not something we do on a normal basis."
But these have not been normal times for Mr. Fischer, director of the state's new marine biology lab on Grand Isle.
IN PICTURES: Louisiana oil spill and Destructive oil spills
The April 20 undersea oil blowout that destroyed the Deepwater Horizon oil rig and killed 11 oil workers some 40 miles offshore has spewed more than 3.5 million gallons of oil into the Gulf so far. And efforts to slow or halt the 200,000 gallon-a-day flow have failed to this point.
On Saturday, tar balls as big as golf balls began washing ashore on Alabama's Dauphin Island, a barrier island that helps protect the entrance to Mobile Bay and some 16 miles of coastline to the west.
The blowout has been "a new challenge for everyone, for all academia, the science community, the universities," Fischer says.
---