Times Square bomb: Did Pakistan Taliban send its 'C' team?
If Faisal Shahzad, the suspect in the Times Square bomb case, trained with the Pakistan Taliban, as US officials say, why was his bomb so poorly built?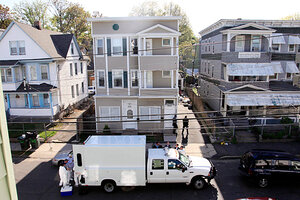 Mark Lennihan/AP
Faisal Shahzad, the suspect in the Times Square bombing case, trained in Pakistan with the Taliban, according to US officials. "I am comfortable in saying that they were involved in what Shahzad tried to do," said Attorney General Eric Holder in an NBC interview broadcast Sunday.
But if Mr. Shahzad did attend a jihadist academy in South Waziristan, or some other remote Pakistani region, why wasn't he a better bomb maker?
Shahzad's explosive device appears to have been odd, and amateurish. Yet the Taliban's basic field manual has two chapters on explosives and addresses everything from the correct creation of detonators to the exact chemical compositions required for homemade bombs.
It's possible that Shahzad was not able to obtain the necessary components for a better bomb, due to federal restrictions. It's also possible that worldwide counterterrorism efforts are having an effect.
---